When:
January 26, 2022 @ 7:00 pm – 9:30 pm
2022-01-26T19:00:00-07:00
2022-01-26T21:30:00-07:00
Where:
LONGSTAFF HOUSE
601 Longstaff Street
Missoula, MT
USA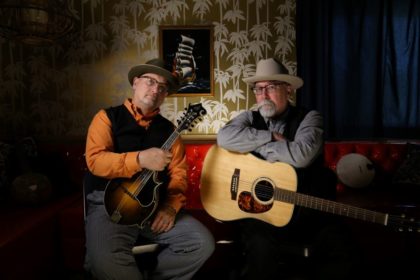 Compton & Newberry A Return to the Roots of Bluegrass!
Mike Compton and Joe Newberry play traditional and new American music that honors the past and forges a path toward the new tradition of the future.  While two musicians do not a bluegrass band make, their music rings true to fans of bluegrass, early country, blues, gospel, and string band music. Together, Compton & Newberry are shining a much-deserved contemporary light on the roots, as they tend to the branches. too.
Compton & Newberry are masters of their craft whose combined pedigree speaks for itself. In addition to multiple IMBA and Grammy nominations and wins, their talents are featured on "A Prairie Home Companion," the Transatlantic Sessions, the soundtracks to "Oh Brother, Where Art Thou?" and "Cold Mountain", as well as numerous other popular collaborations with a diverse range of artists and styles. With a renewed look at American traditional music thanks to the recent Ken Burns series on Country Music, the duo can be counted on to showcase the sounds that laid the foundation for ragtime, country, folk, rural blues and Americana, as well as other sounds that dominate radio and music charts today.
A Compton & Newberry program features a familiar combination of tunes and songs from the great American songbag mixed with their own newly composed numbers which are already taking their rightful place in the new tradition. They are just the artists to bring fans together for a multi-generational celebration of music we all can love.

What Others Are Saying About Compton & Newberry
"In mid-July, I attended this year's Grey Fox Bluegrass Festival… Of all the acts I saw and heard—the most essential music came from the duet of Mike Compton and Joe Newberry… These two pros brought to the music a depth of knowledge that transformed what could have been an hour of potboilers into a too-short set of emotional transcendence."
– Art Dudley, Stereophile Magazine
"Real music performed by artists with a deep appreciation for the folk traditions that came before them… They pull off what's almost impossible these days: honest, genuine music that will get your soul dancing."
– Bluegrass Today
"Two musicians, two instruments and two voices capture the essence of how great music can be."
– Mandolin Café
"Compton & Newberry don't slavishly recreate brother duets, but evoke that era within their decidedly contemporary approach. They have been part of great bands, but their duo has all the electricity and entertainment of a larger group. They're wonderful players and singers, but never let their dazzling technique obscure the power and heart of the song."
– Peter Thompson, Artistic Director, Redwood Bluegrass Associates
Videos of Compton & Newberry
Columbus Stockade Blues   https://www.youtube.com/watch?v=FVwOYKz2ZYY
Righteous Pathway  https://www.youtube.com/watch?v=pduaNiq-ubk