When:
July 13, 2022 @ 7:00 pm – 9:30 pm
2022-07-13T19:00:00-07:00
2022-07-13T21:30:00-07:00
Where:
LONGSTAFF HOUSE
601 Longstaff Street
Missoula, MT
USA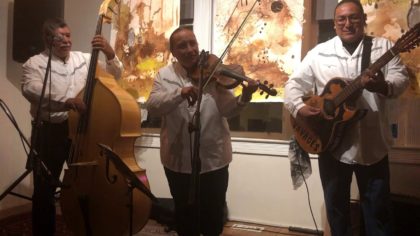 SORRY FOLKS – THIS SHOW IS CANCELLED DUE TO COVID.
When Texas Folklife and the Festival of Texas Fiddling honored Belen Escobedo with the 2017 Texas Master Fiddler Award, they praised her for "single handedly keeping alive" the tradition of conjunto fiddle, "a rare and beautiful style of Mexican-American fiddling which has almost disappeared despite once being very widespread in the borderlands." Today, Belen Escobedo is the foremost practitioner of this fiddle-led art form that expresses the deep roots of Tejano (Texas-Mexican) culture.
Conjunto ("group" in Spanish) emerged in the late 19th century when European instrumentation met Spanish and Indigenous borderlands tunes in the lively dance music of the Tejano working-class communities in southern Texas. By the early 1930s, modern conjuntos were almost exclusively led by the accordion, whose outsized volume stood out over electrified backing bands. However, the earliest versions of Tejano conjunto were strings-only affairs.
Belen Escobedo grew up in South San Antonio in what she calls a "real mestizo" family, where Tejano music on the radio was the soundtrack for daily life. When she entered fourth grade, her school offered free music lessons and a loaner violin, and Belen seized the opportunity. In school she excelled at music theory and orchestra; at home she absorbed traditional fiddle tunes, learning by ear the songs her grandfather, Panfilo Padilla, would whistle from his memories of the string-led conjuntos he loved in his youth. In her teenage years, a famous local mariachi singer admired Belen's playing at Sunday Mass. At his invitation she embarked on a career as a mariachi, a historically male-dominated musical tradition, which paid her way through college and graduate school. For 30 years she taught orchestra and band in the San Antonio Independent School District in addition to mariachi work, and she led the Texas State Guard band on her second instrument, the French horn.
As a professional mariachi fiddler, Escobedo had to master music from across countless Texas-Mexican musical genres, but it was later in her career that she finally found other musicians who shared her abiding love for the borderlands fiddle-led conjunto of her grandfather's whistlings. For Escobedo, playing the music of her heritage is a lifelong passion: just as she remembers the joy she felt as a child when her parents and grandparents danced to her fiddling on the banks of the Guadelupe River, she feels privileged now to play for community elders who ask to hear her conjunto in their final days. Belen says, "I want to bring happiness to people even in the hardest of times."
Backing up Escobedo's lyrical fiddle at the 80th National Folk Festival are her husband, Ramon Gutierrez, on tololoche, the Tejano upright bass, and Stevie Ray Vavages on bajo sexto, the twelve-string guitar. Gutierrez, a multi-instrumentalist and a singer of uncommon expressive power, is one of San Antonio's finest traditional bassists; Vavages, a member of the Tohono O'odham Nation, is the South Texas Conjunto Association 2018 Bajo Player of the Year. The name of her trio, Panfilo's Güera, honors her grandfather's influence on her, the grandchild he called his güera, or "blondie."