When:
October 25, 2018 @ 7:00 pm – 10:00 pm
2018-10-25T19:00:00-07:00
2018-10-25T22:00:00-07:00
EMORY LESTER is one of this day's foremost exponents of the acoustic mandolin. The power and attack of his mandolin playing are unmatched, and his sound is infectious. His landmark mandolin-featured recording projects have placed him among the elite mandolinists of our time. His latest solo recording titled 'At Dusk' showcases Emory's musical creativity, and skill as a mandolinist and multi-instrumentalist.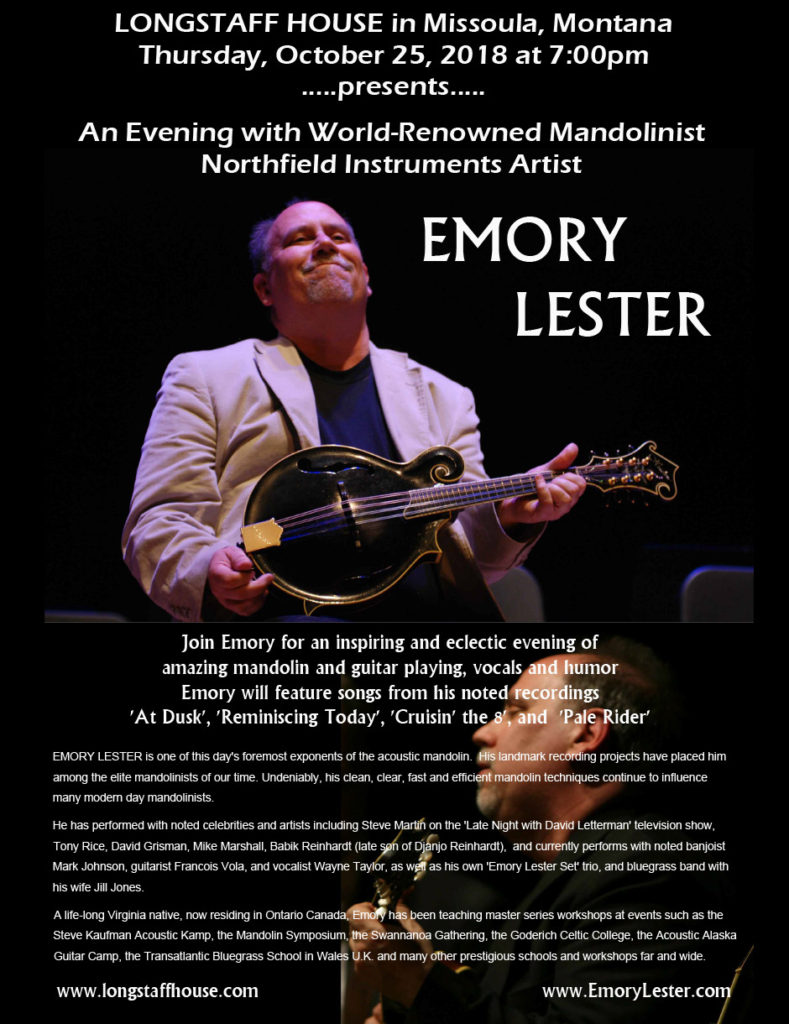 Emory has undeniably inspired and influenced many of today's current wave of modern day mandolinists, pointing the way with his clean, clear, fast and efficient mandolin techniques.
Emory is currently performing with 'Wayne Taylor and Appaloosa', doing shows across the U.S. Canada, Europe and the U.K. Also, his fourteen year friendship and musical collaboration with noted 'Clawgrass' banjoist Mark Johnson has yielded four very creative recording projects. Mark and Emory have toured all across the U.S. and have been featured on several performances with Steve Martin, most notably on the 'Late Night with David Letterman' television show in September of 2012. Emory also will be performing with his partner Jill Jones in the new 'Emory Lester & Jill Jones Band', at upcoming concerts and festivals.
A life-long Virginia native, but currently residing in Ontario Canada, Emory has been teaching master series workshops at events such as the Steve Kaufman Acoustic Kamp, the Mandolin Symposium, the Swannanoah Gathering, the Goderich Celtic College, the Alaska Guitar Camp, the Transatlantic Bluegrass School in Wales U.K. and many other prestigious schools and workshops far and wide. He has also produced many recording projects for other prominent artists.