When:
September 8, 2018 @ 7:00 pm – 10:00 pm
2018-09-08T19:00:00-07:00
2018-09-08T22:00:00-07:00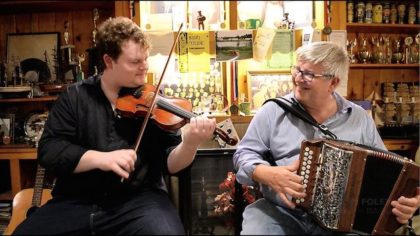 Seven-time all-Ireland champion John Whelan is one of the world's best living Irish button accordion players. John was raised in the vibrant London Irish music scene of the 1970s, and learned his craft from such legends as Lucy Farr, Roger Sherlock, Paddy Taylor, Mick O'Connor and his teacher Brendan Mulkaire. He moved to the USA in 1980 and has been inspiring Celtic musicians and fans ever since. Along with his All-Ireland Championships, he was twice awarded musician of the year from the Irish Music Association. He has over 15 CDs and has performed on Late Night with Conan O'Brien. John is also a sought-after composer and producer. His music has been featured on such TV shows as Sex in the City, History's Mysteries and History Detective. Today John performs with the John Whelan Band and has recently teamed up with his old pal Brian Conway forming the group Gailfean, which also features Máirtin De Cógáin and Don Penzien. Gailfean has recently released a new CD.
Dylan Foley is one of the great fiddle players of our time, an All-Ireland Fiddle Champion, delighting audiences from ‪‪Lincoln Center to Irish Television channels RTE and TG4. Dylan travelled with Mick Moloney in 2013, to Vietnam as part of Irish Aid, bringing Irish music and culture to those who were affected by the horrors of the Vietnam War. He teaches and performs at the major Irish music summer camps on both sides of the Atlantic. A member of The Yanks, the hot trad band that has been called" the next Irish American dream team", Dylan is committed to passing on the tradition, as it was graciously passed to him, by the incomparable Rose Flanagan and others. You can hear his passion for the music in the intense drive of in his lively and fluid playing. Dylan recently released an album with Kevin Crawford & Patrick Doocey, The Drunken Gaugers (2017) and released a solo album in 2018.