When:
April 30, 2020 @ 7:00 pm – 9:00 pm
2020-04-30T19:00:00-07:00
2020-04-30T21:00:00-07:00
Where:
Longstaff House
601 Longstaff Street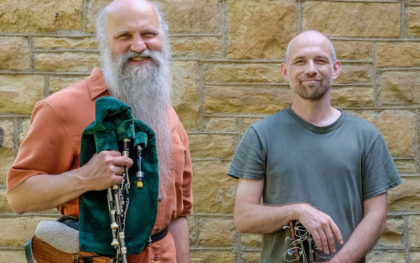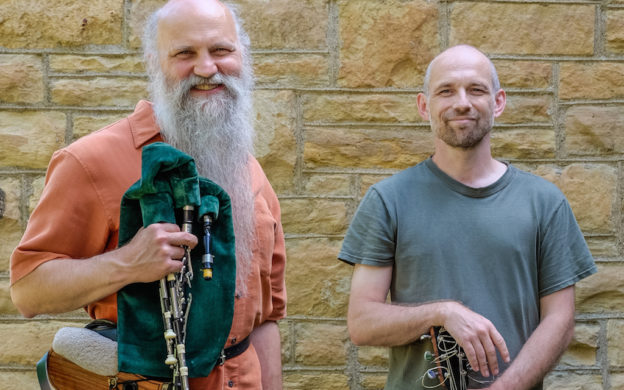 A concert of traditional Celtic music, but with unique and innovative arrangements, including a variety of songs from Britain and Ireland, accompanied by guitar and Northumbrian smallpipes (a quiet bagpipe from Northeast England), or various whistles.  It also features traditional and historical tunes from Cape Breton Island, Scotland, Ireland and Northumberland, with a good measure of original music in the traditional style.  As well as a broad range of styles of Celtic music, this program also features an impressive range of expression, from the jaunty and humorous to soulful, led by Patsy's warm and multi-colored baritone voice, Dick's variety of pipes and whistles, and the nimble instrumental virtuosity of both musicians.  (Please note that NONE of the various bagpipes used in this concert are very loud.)
Dick Hensold, Northumbrian smallpipes, Scottish reel pipes, whistles and recorder. The leading Northumbrian smallpiper in North America, for the past 20 years Dick Hensold has performed and taught in England, Scotland, Japan, Canada, and across the United States. He is an active composer, writing both music in the traditional Celtic idiom, and in more elaborately-scored pieces. This repertoire is featured on his solo CD, Big Music for Northumbrian Smallpipes, released in 2007. He is also a studio musician and theater musician, and is a 2006 Bush Artist Fellow. "The piping is fluent and assured…his technique is impressive…delightfully interpreted" — FolkWorld CD Reviews
"Long-awaited solo CD from North America's foremost smallpiper presents Dick's expressive piping in a variety of settings… Well presented with good notes…" —fRoots May 08, No.299
Patsy O'Brien, vocals, guitar. As well as supplying the driving guitar rhythms of Celtic/World Music diva Eileen Ivers' last European tour, and collaborating with many giants of the Celtic/World music scene (Paddy Keenan, Cathie Ryan among them), award-winning artist Patsy O'Brien hosts guitar workshops all over the country, and NPR saw fit to feature one of his song arrangements on the prestigious All Songs Considered. With 4 critically-acclaimed solo albums under his belt, along with numerous live and studio collaborations, Patsy's songwriting reflects his penchant for seamless genre-hopping, and a strong interest in roots Americana as well as jazz. Veteran Irish music critic Paul Dromey declared Patsy "Ireland's best-kept musical secret".