When:
April 27, 2023 @ 7:00 pm – 9:30 pm
2023-04-27T19:00:00-07:00
2023-04-27T21:30:00-07:00
Where:
LONGSTAFF HOUSE
601 Longstaff Street
Missoula, MT
USA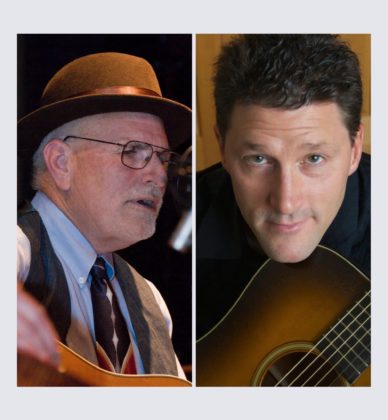 FADDIS ADKINS (FnA) DUO
There's something about the simplicity of two guitars, two voices, and perfect harmonies that transcends time and provides an authentic backdrop for the journey of a song. When that journey is delivered from the hands and voices of Jim Faddis and Dale Adkins, you can sit back and live that journey together with them. Their voices blend seamlessly on Jims original songs and country classics giving the audience a feel of a walk through time. Dale's wizardry on any stringed instrument in his hands is accompanied by Jim's tasteful rhythm  guitar. Few musicians exhibit the instrumental mastery and artistry that Dale brings to his playing on guitar, banjo, ukulele, or tenor guitar. 
Dale has performed across the U.S. and Europe . Many of the Northwest's premier Bluegrass bands have benefited from Dale's creative mastery of the guitar including the groups Out of the Blue, Dr. Corn's Bluegrass Remedy, Frontline, True North, Old Growth Acoustic Quartet, and Dan Crary. Dale can be seen playing a mahogany Preston Thompson acoustic guitar built in Sisters, OR. Dale currently records with his band, Rock Ridge. Their new album, "The Flood," has just been released in March. https://www.daleadkins.com/bio.html
At the heart of his band, Farm Strong, Jim Faddis's soulful voice strikes a chord deep within audience members, and resonates a musical memory of long ago.  For years, his bluegrass band, Prairie Flyer, fired up the Washington State bluegrass scene, a reflection of Faddis' talent and skill in driving a very talented group.  Faddis' gift for songwriting and his songster ways shine in FarmStrong, where he leans on styles from Gillian Welch to Neil Young for inspiration, making new and old tunes, his own. https://farmstrongmusic.com/jim-faddis/