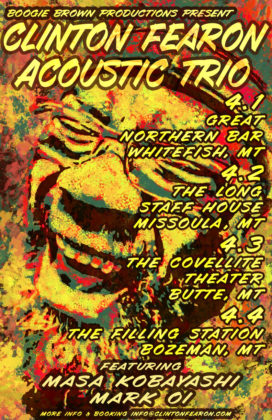 When:
April 2, 2020 @ 7:00 pm – 9:30 pm
2020-04-02T19:00:00-07:00
2020-04-02T21:30:00-07:00
Where:
Longstaff House
601 Longstaff Street
Clinton Fearon
is a composer, songwriter, singer and player of instruments since his early teens.
Born in Jamaica, Clinton became the bassist, vocalist and lyricist of the mythic Gladiators at the age of 19. He was also a session musician for Coxsone Dodd at Studio One and Lee 'Scratch' Perry's at Black Ark in the 70s, two of the main producers on the island at this time. There Clinton composed some everlasting bass lines for wellbknown artists like Yabby You, Jimmy Riley, Max Romeo, Junior Byles and many others. After leaving Jamaica in 1987, Clinton Fearon started a new career in Seattle. Him and some of the musicians of The Gladiators took advantage of the extra time remaining on their visa, at the end of the US tour, to started a band in the Northwest: The Defnders. The band built a nice following in the area but split after five years. Clinton Fearon finally formed his own band in the mid 90s in Seattle with local musicians: Boogie Brown Band.
Clinton Fearon recorded eight albums with Boogie Brown Band and tour with them in the Pacific
Northwest and Europe intensively, but also other places in the US and South America.Since 2005 and the release of Mi An Mi Guitar. Clinton is also giving magical performances in solo acoustic. In
2012, he released his second acoustic opus: Heart And Soul, which gathers 16 songs wrote between 1969-1984, while he was a strong member of the mythic Gladiators in Jamaica.
With just vocaland guitar, Clinton is playing his music all over the world, in clubs, theaters, festivals and other cultural centers.
Each song of Clinton Fearon is a strong message coming from the heart of a man who is dedicating his life to help a better world to come. With chiselled music and poetic lyrics, he opens reggae to a wider audience who simply loves his beautiful songs.