When:
September 10, 2019 @ 7:00 pm – 9:15 pm
2019-09-10T19:00:00-06:00
2019-09-10T21:15:00-06:00
Where:
Longstaff House
601 Longstaff Street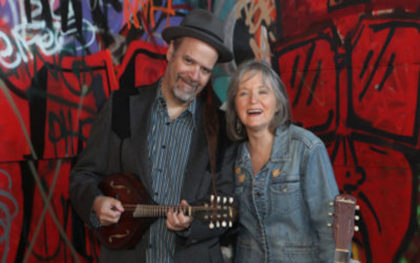 Claudia Russell is an outstanding singer and songwriter who has shared stages with Dave Carter and Tracy Grammer, Loudon Wainwright III, Steve Forbert, Tish Hinojosa, Kris Kristoffersen, Willie Nelson, Darryl Purpose, Peter Rowan, Rosalie Sorrels and Bill Staines, among many others.  When the planets align, she is sometimes pleased to count Carl Byron (piano accordion), and Eric Lewis (dobro, guitar, mandolin) and Tom Tally (viola) in her band. She is also thrilled to perform in the occasional pop up band Paper Birds with Katie Dahl and Rich Higdon.
Boston's WUMB FM named Claudia the Best New Artist of 2000, the East Bay Express named her Best Musician in 2006, and she has twice been selected as a finalist in the Kerrville New Folk songwriting competition. Claudia was a 2004 finalist in the Sisters Folk Festival Songwriters contest in Bend Oregon and the 2002 KRCL Songwriting contest in Salt Lake City.
Claudia has performed for thousands as cast member in several productions at American Folklore Theater in Door County WI, including "Old Friends," "Goodnight, Irene," "Fish and Whistle," and "Sometimes a Song."
Besides writing evocative songs, Claudia is known for her vocal talent. She is an expressive and versatile singer, as at home on a soulful ballad as a Buddy Holly style romp.  But music is in the ear of the listener. So have a listen and hear for yourself!
Bruce Kaplan is a renaissance man. Which is a polite way of saying he's still not quit sure of what he wants to be when he grows up. He's been a writer, magazine editor, entrepreneur, graphic designer, marketing consultant, teacher, potter, concert producer, sound engineer, non-profit organizer, and most notably, a performing musician.
As a musician, Kaplan has worked with many talented singer/songwriters, most notably his wife and current musical partner, Claudia Russell. He is known for deftly accompanying on mandolin and electric guitar, providing melodic counter point and atmosphere that aspires to elevate each song just a little higher. The word tasteful is oft heard, while flashy is not. On stage he is noted for the witty off-the-cuff remark.