When:
April 16, 2023 @ 7:00 pm – 9:30 pm
2023-04-16T19:00:00-06:00
2023-04-16T21:30:00-06:00
Where:
LONGSTAFF HOUSE
601 Longstaff Street
Missoula, MT
USA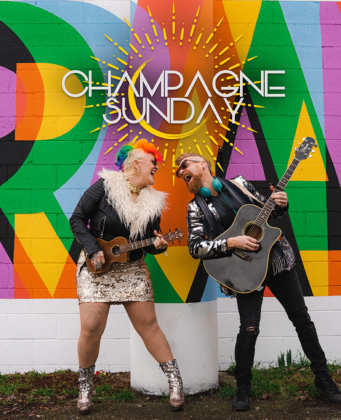 Part of the broad appeal of Champagne Sunday is their tendency to avoid topics like religion and politics, but instead speak with broad-stroke and genuine messages of love and humanity. As such, Champagne Sunday continues to amass a far-reaching, broad, and ever-expanding fan base that even includes the Governor and first lady of the state of Washington, Jay and Trudi Inslee, who have personally attended shows.
They're lovable. They're fun. They're edgy. They're unique. They're not to be missed.
"Rich musical artistry and seamless delivery set Champagne Sunday miles ahead of the crowd of musical talents clambering for an online presence. Reminding us that we are each ultimately in charge of our own reality, this talented duo is clearly in an absolute state of joy when they perform––the perfect example of following your bliss, staying present and appreciating each moment. This is what true musicianship looks and feels like when passion is front and center."
https://champagnesunday.com/